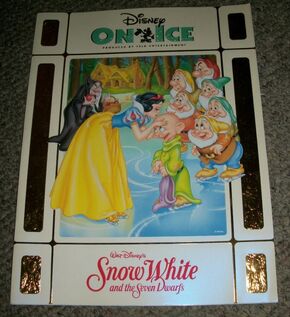 Walt Disney's World on Ice: Snow White and the Seven Dwarfs (previously Snow White on Ice) is the seventh Walt Disney's World on Ice show, originally toured from 1982-1992.
In honor of the 50th anniversary of Snow White and the Seven Dwarfs. It was later revamped and re-toured from 1994-2001.
While both iterations of the show use a framing device in which Mickey Mouse tells the story in a grand library, there are a number of differences between the two shows. The 1986 iteration was longer, running at a total of around three hours (twice the running time of the original movie), and featured several scenes not in the film. Most notably, there is a sequence set before the movie's events where a young Snow White tries to run away into the forest and accidentally meets Doc. It is also revealed that Dopey's clumsiness led to the dwarfs discovering the diamond mine, and that the Huntsman was also a good friend to Snow White when she was little.
By comparison, the 1994 iteration is a more straight-up retelling of the movie's story, skipping over the additional sequences that were made for the 1986 version. It is also notable for featuring a rare "live" appearance by the King of Hearts from Alice in Wonderland and Shanti from The Jungle Book; they appear alongside the Queen of Hearts and Mowgli, respectively, during the finale. This is also Clarabelle's only Disney on Ice appearance.
Featured Movies
Edit
Besides Snow White, the following stories were represented in this show's framing device:
Cinderella (1994-2001 version)
Alice in Wonderland
Sleeping Beauty (1994-2001 version)
The Jungle Book
The Many Adventures of Winnie the Pooh (1986-1992 version)
The Rescuers (1994-2001 version)
The Little Mermaid (1994-2001 version)
Beauty and the Beast (1994-2001 version)
Aladdin (1994-2001 version)
The Lion King (1994-2001 version)
Community content is available under
CC-BY-SA
unless otherwise noted.